In 1984, the National Crime Prevention Council designated October Crime Prevention Month. Each year the council provides valuable information to the public regarding crime statistics, ways to deter crime, report crimes, and crime campaigns.
Thankfully crime is down from its peak in the 1990's. However, there are still some extremely disturbing statistics as reported by the Bureau of Justice Statistics. Below are some statistics and charts as reported in the latest Criminal Victimization Report:
The number of violent-crime victims age 12 or older rose from 2.7 million in 2015 to 3.3 million in 2018, an increase of 604,000 victims.
The number of violent incidents increased from 5.2 million in 2017 to 6.0 million in 2018.
Based on the 2018 survey, U.S. households experienced an estimated 13.5 million property victimizations, which include burglaries, residential trespassing, motor-vehicle thefts, and other thefts
Less than half (43%) of violent victimizations were reported to police
The rate of violent victimization increased from 32.0 to 40.8 victimizations per 1,000 persons for those living in households earning less than $25,000 a year. The poor is victimized at a much greater rate than others with more means.
Collectively, victims of property crimes (excluding arson) suffered losses estimated at $16.4 billion in 2018.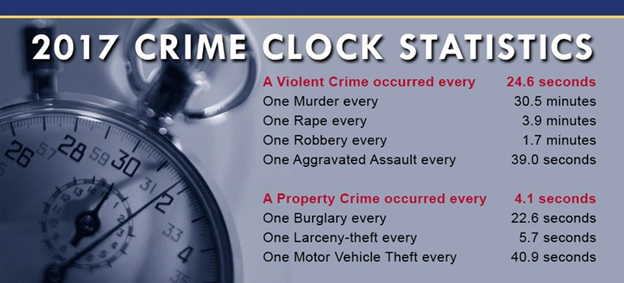 Crime continues to be an extremely costly and persistent problem in the United States.
According to the National Crime Prevention Council there are ways to help protect your home and your neighborhood from crime. Simple steps include keeping your doors locked and starting a Neighborhood Watch program. There are plenty of things you can do to prevent crime. For more information go to National Crime Prevention Council.