Sound the alarm! Move to DEFCON 4! The New Jersey pretrial jail population has increased 11% over the past four months! That passage was from my October 2019 blog. That narrative has changed some. The increase in October 2020 was much greater than 11%. It was a massive increase of 34% pretrial detention rate over the 2020 low in April 2020.
Once Again Statistics Stop!
As I stated in October 2019, Chief Justice Stuart Rabner will not stand for an increase in pretrial detention rates regardless if those being held are being held for legitimate public safety concerns. History is repeating itself in New Jersey. Last year, New Jersey stopped posting the daily pretrial rates beginning in October. Well, New Jersey is at it again. The jail population was rising, and the statistics stop. Why?
No Transparency
This is the reason Americans do not trust government. There is no transparency. Rabner's acclaimed solution is not working and costing taxpayers hundreds of millions of dollars.
I have repeatedly requested actual data from New Jersey as I am dubious of the reports, they have been publishing each year. For instance, New Jersey will not provide the total number of defendants who have failed to appear for court dates, or the total number of defendants rearrested after release. I believe they are not providing actual numbers because if they did, we would learn the statistics being published are only for a smaller subset of all who are arrested.
If New Jersey provided all arrest data, I am certain we would see similar failure to appear rates like Houston Texas. Over 50% of those released pretrial in Houston do not appear for their court dates!
Why is it important for defendants to appear?
First, it is the defendant's constitutional right to defend accusations. Second, if there is a victim, the victim deserves justice. Third, it enhances court docket efficiency resulting in a lower cost to taxpayers and less wasted time of jurists, attorneys, and all who support trials.
Statistics
Below you will see the New Jersey jail population pretrial detention graph provided by the New Jersey Courts through October 2020. You will note the same upward trend that occurred in 2019, occurred in 2020. Jail population increasing greatly. You will also note that no additional data has been provided since October 2020. Will we see another claim of an "administrative error" followed by another large drop in the pretrial rate? It would not surprise me.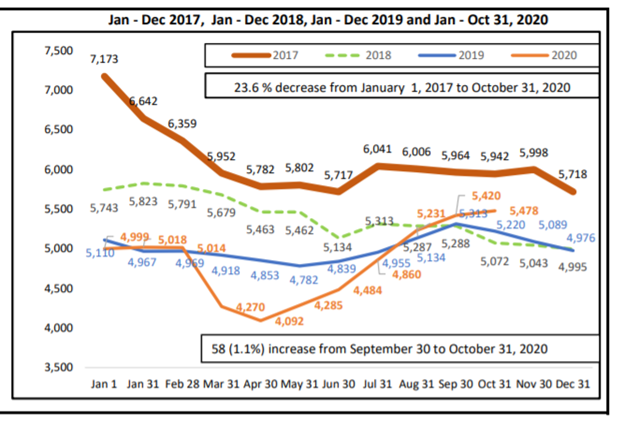 As stated previously…
As stated in my 2019 blog, bail reform is Chief Justice Stuart Rabner's baby. His ego will not let bail reform fail no matter how bad it is or how much it costs the taxpayers. As previously reported by New Jersey's report to the Governor in 2020, bail reform ran out of funding. The increase in court filing fees along with the alleged savings was supposed to fund bail reform. An acclaimed economist from Towson University testified the cost to taxpayers, with savings included, would be over $200 million per year. He was right!
How did Rabner fix his lack of funding issue? He had legislators pass a new law that his funding would come from the general fund meaning taxpayers now pay for his lies.
Is reform working?
The New Jersey pretrial jail population is definitely increasing.
Greater consistency was one of the goals of bail reform. A more unified release process was needed. If so, why is one county detaining almost 50% of defendants pretrial while another only detains 11%?
New Jersey Statistics show there is a higher failure to appear rate, a higher rate of crime committed while on release and no change in the percentage of pretrial population by race.
The New Jersey report notes hundreds of millions of taxpayer dollars spent.
Bail reform as sold to the people of New Jersey is failing!
Leadership change needed?
If Rabner was the CEO of a company, he would be fired for this horrendous performance. Since it is government and your money, they do not care!
Will the New Jersey pretrial jail population continue to rise? We do not know as New Jersey government officials are once again hiding the truth.